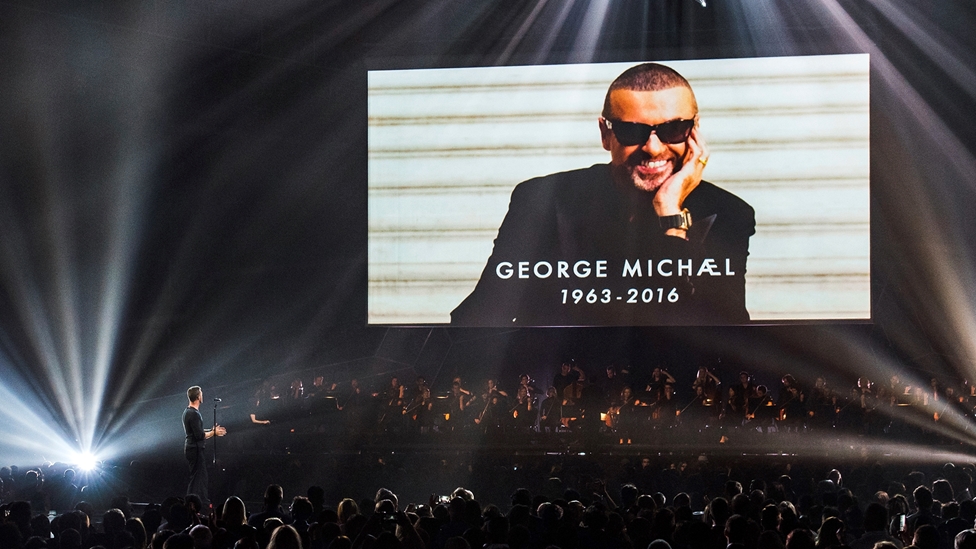 Obituaries 2016 - 2017
During The BRIT Awards 2017, we paid tribute to the many musicians and music industry colleagues that we have lost in 2016 – many of whom are listed here.

Alan Haven
Born: 01-04-35, Died: 07-01-16
Manchester-born English jazz organist known for his collaborations with John Barry, including the James Bond films From Russia with Love (1963) and Goldfinger (1964) and the comedy film A Jolly Bad Fellow (1964). He released albums throughout the 60s and 70s, with this final album being released in 2004.

Alan Vega (Boruch Alan Bermowitz)
Born: 23-06-38, Died: 16-07-16
American vocalist, artist and punk icon. Best known as a founder of avant-garde duo Suicide.

Allan Williams
Born: 21-02-30, Died: 30-12-16
Credited as the man who discovered The Beatles, Williams was a British businessman and manager, who became the first manager of The Beatles and arranged their first residency in Hamburg.

Bernie Worrell
Born: 19-04-44, Died: 24-06-16
George Bernard Worrell (also known as The Wizard of Woo) was a keyboardist, sideman and composer best known as a founding member of funk and soul collective Parliament-Funkadelic and for his work with Talking Heads.

Billy Paul
Born: 01-12-34, Died: 24-04-16
Grammy Award-winning Philadelphia Soul singer, best known for the single 'Me and Mrs Jones'.

Bobby Vee (Robert Thomas Velline)
Born: 30-04-43, Died: 24-10-16
American pop singer and 60s teen idol. He had ten hit singles in the UK and thirty-eight Billboard Hot 100 chart hits throughout his career.

Bobby Wellins
Born: 24-01-36, Died: 27-10-16
Scottish tenor saxophonist, best known for his collaborations with British jazz musician Stan Tracey, most notably on the acclaimed album 'Jazz Suite Inspired by Dylan Thomas's Under Milk Wood'.

Christina Grimmie
Born: 12-03-94, Died: 10-06-16
American singer, songwriter and musician who featured on the US version of The Voice – finishing third in 2014. Christina was shot and killed after a concert in Orlando.

Clarence Reid
Born: 14-02-39, Died: 17-01-16
Reid was a talented R&B musician and songwriter, who was perhaps better known as his innovative masked and X-rated alias 'Blowfly'.

Claude "Curly" Putman Jr.
Born: 20-11-30, Died: 30-10-16
American songwriter, best known as the writer of 'Green, Green Grass of Home', which has been covered by a host of artists including Tom Jones, Elvis Presley, Kenny Rogers, Dean Martin and Merle Haggard.

Colin " Black" Vearncombe
Born: 26-05-62, Died: 26-01-16
English singer songwriter, who emerged from the punk rock scene in the early eighties. Achieved worldwide success with the international hit single 'Wonderful Life'.

Colonel Abrams
Born: 25-05-49, Died: 24-11-16
Detroit-born New York musician, singer, songwriter, dancer and actor. Best known as a pioneer of house and dance music in the 80s, with his signature single 'Trapped'.

Craig Gill
Born: 05-12-71, Died: 20-11-16
Drummer and founding member of 80s Manchester band Inspiral Carpets. He was also known as a DJ at legendary Madchester club The Hacienda and as a music historian who ran music-themed tours around the Greater Manchester area.

Dale Griffin
Born: 24-10-48, Died: 17-01-16
Dale Griffin was a drummer and founding member of Mott the Hoople. He also served as a producer for many BBC Radio 1 John Peel sessions from 1981 to 1994. These included sessions with Smashing Pumpkins, Nirvana, and Carcass.

Dave Swarbrick
Born: 05-04-41, Died: 03-06-16
English folk musician, singer-songwriter and fiddle player, best known for his work during the second British folk revival. A sought after session musician, he was also a leading figure in the band Fairport Convention.

David Bowie (David Jones)
Born: 08-01-47, Died: 10-01-16
Brixton-born Bowie straddled the world of music and art like no other performer. His influence began with the 1971 album 'Hunky Dory', before he shocked 70s Britain with Ziggy Stardust – uniting a generation of outsider fans. Bowie's four decade long career contained 121 singles, 27 studio albums (plus two with Tin Machine), five UK No. 1s, 26 films, four BRIT Awards and a further nine BRITs nominations.

David Enthoven
Born: 05-07-44, Died: 11-08-16
Music manager who rose to prominence in the pop music boom of the 1960s, co-managing King Crimson, Marc Bolan, Emerson, Lake and Palmer and Roxy Music. Later, he managed Robbie Williams' solo career. Enthoven was active in the founding of the Featured Artists Coalition, which campaigns for musicians' rights.

David Gest
Born: 11-05-53, Died: 12-04-16

David Gest was a producer and television personality. He is known as a long-time friend of Michael Jackson and for producing "Michael Jackson: 30th Anniversary Celebration: The Solo Years," which is recognised as the highest rated musical television special in history. Gest also appeared on British reality shows "I'm a Celebrity Get Me Out of Here" and "Celebrity Big Brother"

Denise Matthews (Vanity)
Born: 04-01-59, Died: 15-02-16
Canadian singer, songwriter, dancer, actress and model. She found fame as part of Prince's 1981 girl group Vanity 6 and later recorded two solo albums on Motown Records. Matthews became an evangelical Christian in the 90s and devoted her later life to the church.

Ernestine Anderson
Born: 11-11-28, Died: 10-03-16
American jazz and blues singer, with a career spanning more than six decades. She recorded over 30 albums and was nominated for a Grammy four times.

Fiona Haycock
Died: 31-08-16
Music events manager, who worked on several awards ceremonies, including the Music Industry Trusts' Award, the Silver Clef Awards, the MOBOs and the Sony Radio Awards. She also served as director of PR and events at the BPI from 1996-1998 and head of events at PPL from 2009-2014.

Frank Murray
Died: 22-12-16
Dublin-born music manager and actor, best known for managing Thin Lizzy and The Pogues – whose career he launched in London. He also managed Kirsty MacColl, who he suggested as a duet partner for Shane MacGowan on 'Fairytale of New York'.

Frank Sinatra Jr.
Born: 10-01-44, Died: 16-03-16
American singer, songwriter and conductor and son of Frank and Nancy Sinatra.

George Martin
Born: 03-01-26, Died: 08-03-16

Sir George Martin was a record producer, audio engineer, conductor, composer, and musician. Best known for signing and then working with The Beatles (often being referred to as the fifth Beatle), his career spanned seven decades.

George Michael (Georgios Panayiotou)
Born: 25-06-63, Died: 25-12-16
George Michael was one of the biggest British pop stars and songwriter of the 80s and 90s, firstly as part of Wham! with school friend Andrew Ridgeley and later as a solo artist – selling 100 million albums worldwide. After his death, it was revealed that he had privately given away millions to both charity and individuals during his life.

Glenn Frey
Born: 06-11-48, Died: 18-01-16
American musician, singer, songwriter and co-founder of The Eagles. Frey co-wrote many of the band's hits – including 'Hotel California' and 'Take It Easy'.

Greg Lake
Born: 10-11-47, Died: 07-12-16
English guitarist, singer, songwriter and producer. He rose to fame as a founding member of both King Crimson and Emerson, Lake and Palmer. As a solo artist, he was perhaps best known for the hit Christmas single 'I Believe In Father Christmas'.

Guy Clark
Born: 06-11-41, Died: 17-05-16
Grammy Award-winning American country and folk singer and songwriter. Clark released over twenty albums over five decades.

Henry McCullough
Born: 21-07-43, Died: 14-06-16
Northern Irish guitarist, singer and songwriter. A solo artist, who released albums throughout his career, he was also known as a session musician and member of Wings – playing lead guitar on 'Live and Let Die'.

Jerry Heller
Born: 06-10-40, Died: 02-09-16
American music manager and businessman. Heller managed West Coast hip-hop pioneers N.W.A and solo member Eazy-E, as well as artists such as Marvin Gaye, Ike & Tina Turner, The Who, Black Sabbath, Van Morrison and many more throughout his career.

Jimmy Bain
Born: 19-12-47, Died: 23-01-16
Scottish musician, best known as a bass player in the British rock band Rainbow and the American heavy metal band Dio. He also worked with Thin Lizzy frontman Phil Lynott.

Jock Scot (John Graham Mason Leslie)
Born: 21-09-52, Died: 13-04-16
Scottish poet and recording artist, known for his spoken word live performances. He often worked with musicians, including Ian Drury, Joe Strummer, The Libertines and most recently British Sea Power.

Joe Esposito
Born: 22-01-38, Died: 23-11-16
Best known as Elvis's road manager and friend, having first met Presley while serving in West Germany in 1958. He later went on to be road manager for Michael Jackson, The Bee Gees and Karen Carpenter as well as the author and publisher of several books about Elvis.

John Berry
Died: 19-05-16
Founding member of Beastie Boys, who is credited with naming the band. He featured on the group's first 7" EP and played their first shows before leaving in 1982.

John D Loudermilk
Born: 31-03-34, Died: 21-09-16
An American singer songwriter, Loudermilk was primarily known as a songwriter, writing country and pop hits for the likes of Marianne Faithfull, Eddy Arnold and Paul Revere & the Raiders. He also had a successful recording career in the 50s and 60s.

Jon English
Born: 26-03-49, Died: 09-03-16
English-born Australian singer, songwriter, musician and actor. English was an early vocalist and rhythm guitarist for the Australian rock band Sebastian Hardie, before leaving to pursue his acting career. English released 11 studio albums and two live albums, as well as featuring on six cast recordings as a musical actor.

Kay Starr (Katherine Laverne Starks)
Born: 21-07-22, Died: 03-11-16
American pop and jazz singer, best known for two #1 hits in the 50s 'Wheel of Fortune' and 'The Rock and Roll Waltz', who was inducted into the Grammys Hall of Fame. Billie Holiday called her "the only white woman who could sing the blues".

Keith Emerson
Born: 02-11-44, Died: 11-03-16
English musician and composer. He played keyboards in a number of bands before he found his first commercial success with the Nice in the late 1960s. Later, he was a founding member of Emerson, Lake and Palmer, which became one of the best known progressive rock groups of the 1970s.

Lee Andrews
Born: 02-06-36, Died: 16-03-16
American soul singer and leader of Philadelphia R&B quintet Lee Andrews & the Hearts.

Leon Haywood
Born: 11-02-42, Died: 05-04-16

Leon Haywood was a funk and soul singer-songwriter as well as a record producer, who had a string of funk hits in the 70s and 80s. Best known for the 1975 hit song 'I Want'a Do Something Freaky To You', the song was later the basis for Dr. Dre's 'Nuthin' but a G Thang'.

Leon Russell
Born: 02-04-42, Died: 13-11-16
An American musician and songwriter who had a successful career spanning six decades. He recorded 33 albums and was inducted into both the Rock and Roll Hall of Fame and the Songwriters Hall of Fame. He was most recently known for his 2010 Grammy-nominated album The Union, recorded with Elton John, who cites Russell as a great influence.

Leonard Cohen
Born: 21-09-34, Died: 07-11-16
Canadian singer, songwriter, novelist and poet, whose work inspired generations of musicians. Known as the songwriter's songwriter, Cohen released fourteen studio albums, spanning six decades – but was perhaps best known for his 1984 song 'Hallelujah', which has been extensively covered over the years. Cohen was Companion of the Order of Canada, the highest civilian honour in his home country.

Mark Fisher
Died: 12-12-16
Keyboardist, producer and composer – best known as a member of Matt Bianco. Fisher joined the band for their second album and was a member for 20 years, he passed away at age 57.

Marni Nixon
Born: 22-02-30, Died: 24-07-16
American soprano and playback singer. Best known as the singing voice for featured actresses in films such as West Side Story, My Fair Lady and The King and I – dubbing the voices for Deborah Kerr, Audrey Hepburn and Natalie Wood among others.

Martin Stone
Born: 11-12-46, Died: 09-11-16
English guitarist and later a rare book dealer. He first became known as a guitarist in the 60's, playing in many blues, rock and mod bands, including Savoy Brown, The Action and The 101ers and was later rumoured to be considered as a replacement for Brian Jones in the Rolling Stones.

Matt Roberts
Born: 10-01-78, Died: 20-08-16
Founding member, lead guitarist and backing vocalist of the American rock band 3 Doors Down. The band have sold over 20 million albums worldwide. Roberts left in 2012 for health reasons.

Maurice White
Born: 19-12-41, Died: 03-02-16
American singer songwriter, musician, record producer, arranger and founder of seminal Funk band Earth, Wind & Fire. White won a total of seven of his twenty Grammy nominations, was inducted into the Rock and Roll Hall of Fame and has a star on the Hollywood Walk of Fame.

Merle Haggard
Born: 06-04-37, Died: 06-04-16
Merle Haggard was a country singer-songwriter, guitarist, and fiddler. He was fundamental in the creation of the 'Bakersfield Sound' and had 38 number one hits in the US county charts. He won numerous awards including the four Grammys and a BMI Icon Award.

Neville Marriner
Born: 15-04-24, Died: 02-10-16
Sir Neville Marriner CH CBE was an English violinist and founder of the Academy of St Martin in the Fields. His recording of the soundtrack to the film Amadeus is one of the most popular classical music recordings of all time – selling 6.5m copies.

Pádraig Duggan
Born: 23-01-49, Died: 09-08-16
Guitar and mandolin player, who was a founding member of the Irish Folk group Clannad, alongside his twin brother Noel. Clannad released 16 studio albums and won many awards throughout their 46 year history – including a Grammy, a Bafta, an Ivor Novello and lifetime achievement awards from the IRMA and The Meteors.

Papa Wemba (Jules Shungu Wembadio Pene Kikumba)
Born: 14-06-49, Died: 24-04-16
Congolese singer, musician and world music star who was known as the 'King of Rumba rock'. He recorded over 40 albums in a career spanning five decades. He also acted in films and was a fashion icon, becoming a leader of the African La Sape movement in the 1970s.

Paul Kantner
Born: 17-03-41, Died: 28-01-16
Co-founder of psychedelic rock band Jefferson Airplane and its spin-off Jefferson Starship, Kantner was an American guitarist and singer song writer. With hits such as 'Somebody to Love' and 'White Rabbit', Jefferson Airplane soundtracked the hippie movement and the Summer of Love.

Pete Burns
Born: 05-08-59, Died: 23-10-16
Singer, songwriter and founding member of 80s pop band Dead or Alive. The band had chart success with the hit single, 'You Spin Me Round (Like a Record)'. Burns later appeared in Celebrity Big Brother, rising to prominence against as a TV presenter and reality TV star.

Sir Peter Maxwell Davies
Born: 08-09-34, Died: 14-03-16
An English composer and conductor, who was one of the leading composers of his generation. The author of hundreds of works, he was knighted in 1987 and in 2004 he was made Master of the Queen's Music.

Phife Dawg (Malik Izaak Taylor)
Born: 20-11-70, Died: 22-03-16
Phife Dawg was a founding member of A Tribe Called Quest. The band is credited with pioneering an alternative form of Hip Hop and released six acclaimed studio albums. The sixth, 'We Got It From Here… Thank You 4 Your Service' was released in November 2016 and the band were nominated for a BRIT Award in 2017 for International Group.

Philip Cannon
Born: 21-12-29, Died: 24-12-16
British teacher and composer, best known for his choral works. Rick Wakeman described Cannon as his favourite teacher.

Phil Ryan
Born: 21-10-46, Died: 30-04-16
Welsh keyboardist, best known for his work with South Wales progressive rock band Man.

Pierre Boulez
Born: 26-03-25, Died: 05-01-16
French composer, conductor and founder of the IRCAM Institute in Paris, commonly known as the leading figure in post-war avant garde music. Along with contempories such as John Cage and Karlheinz Stockhausen, he shaped the sound of modern music as we know it.

Prince
Born: 07-06-58, Died: 21-04-16

Prince Rogers Nelson was a singer, songwriter, musician, and actor and one of the most influential artists of all time. A prolific songwriter, Prince released 39 studio albums and sold over 100 million records worldwide. He was also a relentless performer, touring extensively in his final years – his marathon shows were legendary.

Prince Buster (Cecil Bustamente Campbell OD)
Born: 24-05-38, Died: 08-09-16
Jamaican singer, songwriter, producer and ska pioneer who shaped the sound of Jamaican music in 1960s. His work later influenced the ska revivalist artists of the 1970s, including Madness, whose first single 'The Prince' was a tribute to Campbell. The band also took their name from Campbell's popular 60s track 'Madness'.

Richard Antwi
Died: 11-02-16
Oxford graduate, Richard Antwi was a British music lawyer and founder of Full + Bless Management, who specialised in managing talent and ensuring artists were aware of their rights in the industry. He also established a record label alongside Radio 1Xtra DJ Twin B, Levels Entertainment, releasing Wretch 32's second album.

Rick Parfitt OBE
Born: 12-10-48, Died: 24-12-16
English singer, songwriter and rhythm guitarist for Status Quo. Over their forty year history, the band sold over 118 million albums worldwide and in 2010 Parfitt and his long time musical partner Francis Rossi received OBEs for their services to music.

Robbie Brennan
Died: 12-04-16
Irish drummer and a former member of both Phil Lynott's band Grand Slam and Dublin-based 60s band Skid Row.

Robert Stigwood
Born: 16-04-34, Died: 04-01-16
Australian-born music manager, film producer and impresario. Stigwood was best known for managing the Bee Gees and Cream, and as a producer for musicals including Hair and Jesus Christ Superstar and for the musical films Grease, Saturday Night Fever and Tommy.

Rod Templeton
Born: 09-10 -49, Died: 05-10-16
One of the most successful British songwriters of all time, Templeton wrote the Michael Jackson classics 'Thriller', 'Off the Wall', 'Rock With You' and 'Baby Be Mine' among others. His writer or co-writer credits also include hits for Quincy Jones, Aretha Franklin, Patti Smith, Donna Summer and George Benson.

Royston Nash
Born: 23-07-33, Died: 04-04-16
English-born conductor, who was best known as music director of the D'Oyly Carte Opera Company during the 1970s. He later was conductor of the Cape Cod Symphony Orchestra.

Rudy Van Gelder
Born: 02-11-24, Died: 25-08-16
American recording engineer, who specialised in Jazz. In a career that spanned five decades, he recorded over 1000 sessions with many jazz greats including Miles Davis, Thelonious Monk, Sonny Rollins, John Coltrane and Herbie Hancock.

Scotty Moore
Born: 27-12-31, Died: 28-06-16
Winfield Scott 'Scotty' Moore III was an American guitarist and recording engineer, best known for his work on early Elvis Presley records, including 'Jailhouse Rock' and 'Heartbreak Hotel'. Moore is credited with pioneering the rock guitar sound, including the use of power chords.

Signe Toly Anderson
Born: 15-09-41, Died: 28-01-16
American vocalist and original member of psychedelic rock band Jefferson Airplane.

Sharon Jones
Born: 04-05-56, Died: 18-11-16
An American soul and funk singer and lead singer of Brooklyn band Sharon Jones & The Dap-Kings. The band spearheaded the funk and soul revival of the noughties and released six studio albums.

Sonny James (James Hugh Loden)
Born: 01-05-28, Died: 22-02-16
Popular American country music singer and songwriter best known for his 1957 track, 'Young Love'. He was given a star on the Hollywood Walk of Fame in 1961 and was inducted into the County Music Hall of Fame in 2007.

Tenor Fly (Jonathan Sutter)
Died: 17-06-16
Brixton vocalist, who rose to prominence in the sound system culture of the 1990s. A member of The Freestylers, he also released albums with Congo Natty and Top Cat.

Tom Searle
Died: 20-08-16
Guitarist and founding member of British metal band, Architects. Searle passed away from cancer, aged just 28.

Tony Martell
Born: 23-06-26, Died: 27-11-16
Veteran American music industry senior executive and philanthropist. His TJ Martell Foundation has raised more than $270 million dollars over four decades to fund essential AIDS, cancer and leukaemia research.

Valerie Gell
Born: 14-08-45, Died: 11-12-16
Vocalist and guitarist in the all-female 60s Merseybeat group The Liverbirds. The band were most successful in Germany, where they had a residency at the Star-Club in Hamburg in the mid-60s and released two albums and a top 5 single.

Vi Subversa (Frances Sokolov)
Born: 20-06-35, Died: 19-02-16
Singer and guitarist of British punk band Poison Girls.

Viola Beach
Died: 13-02-16
Viola Beach were an emerging indie band from Warrington, UK. The band was made up of Kris Leonard, River Reeves, Tomas Lowe and Jack Dakin. The band, along with their manager Craig Tarry, were killed in a car crash in Sweden in February 2016.

Dame Zaha Hadid DBE, RA
Born: 31-10-50, Died: 31-03-16
Iraqi-born British architect. She was the first woman to receive the Pritzker Prize (2004), won the Stirling twice (2010 and 2011) and was made a Dame in 2012. In 2015 she became the first woman to be awarded the Royal Gold Medal by RIBA. In 2016, she was commissioned to design the 2017 BRIT Award – one of her last projects before her death.