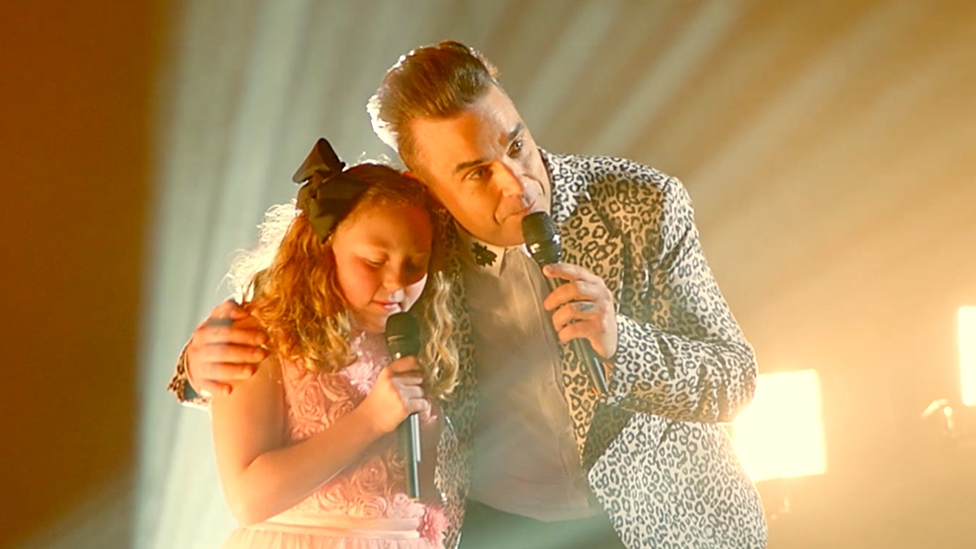 Robbie Williams gives fan a Priceless Surprise!
BRITs Icon, Robbie Williams, gave one of his biggest fans, Danielle Howting from Gosport Hants, a surprise of a lifetime when he performed a stunning duet of his latest hit 'Love My Life' with her young daughter, Grace, at a surprise gig at her local cinema.

As part of Mastercard's Priceless Surprises campaign in celebration of The BRIT Awards 2017, Danielle, who met her partner at one of Robbie's concerts, thought she was taking part in a documentary about Robbie's biggest fans. When she went to her local cinema with some family and friends, she was surprised to be watching a film of Robbie at her house, living a day in her life. For the the culmination of the surprise, Robbie appeared from behind the cinema screen with Danielle's 9-year-old daughter for a duet of 'Love My Life – a song he wrote for his own children from his new album, 'The Heavy Entertainment Show'.

Danielle describes the emotional experience:
"This has been one of the craziest but most amazing days of my life! I have been a fan of Robbie for years and met my long-term partner, Mike, at one of his concerts. You could say that without Robbie, I wouldn't have met my soul-mate and had our lovely daughter. Then to see her sing on stage with Robbie Williams is just out of this world and brought a tear to my eye! It was a beautiful moment and I'll never forget it."

Robbie comments:
"It was brilliant to surprise Danielle and spend time with her friends and family. Singing with Grace and seeing Danielle's reaction was priceless."

Nicola Grant, Head of Marketing UK&I at Mastercard, says:
"Robbie Williams is a huge music star and the fact that he has been awarded The BRITs Icon is testament to that. His unique talent makes him the perfect fit for our fan surprise, as Robbie truly lives the Priceless side of music. Giving our cardholders more opportunities to get closer to their idols is at the heart of our partnership with The BRITs and this year promises to be better than ever."
Watch the full Priceless Surprise here.
Robbie's surprise was part of Mastercard's Priceless Surprise campaign in celebration of the BRIT Awards 2017 with Mastercard. The superstar joins other music artists, including Mark Ronson, Ellie Goulding and Mary J Blige, in an ongoing series of surprises, helping Mastercard cardholders share their love of music.

Robbie Williams has received a staggering 18 BRIT Awards, more than any other artist in music history. Last year he was honoured with the prestigious BRITs Icon Award – the highest accolade given by the BRIT Awards and previously only given to Elton John and David Bowie. He will perform at this year's BRIT Awards with Mastercard, the UK's biggest night in music, on Wednesday 22 February at The O2 London, broadcast exclusively on ITV at 7:30pm.