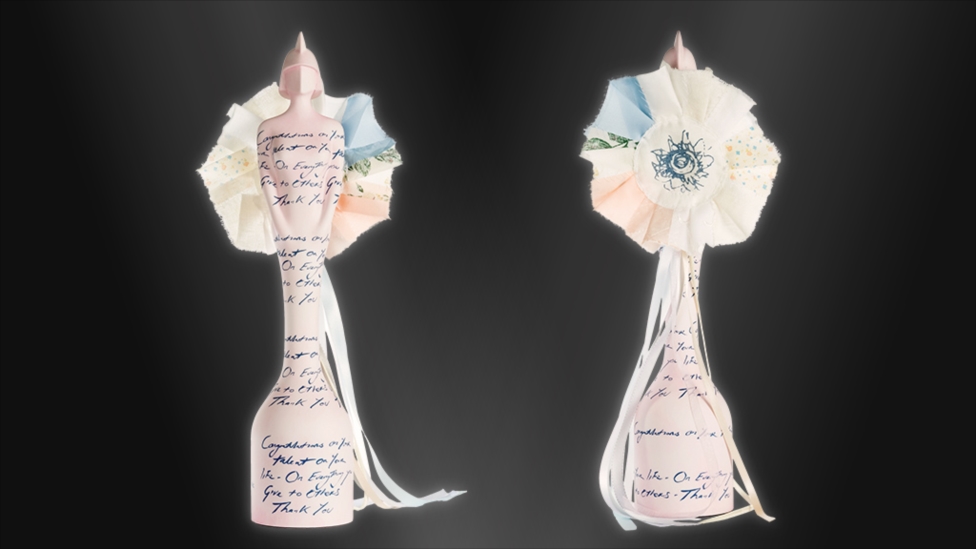 BRITs 2015 trophy revealed
We're delighted to reveal The BRIT Awards 2015 trophy, which has been styled by British artist Tracey Emin. The design features Emin's trademark handwritten messaging as well as a large rosette which Emin describes as 'slightly shieldish, but also like a pair of wings'.

This year's design marks the fifth time the award has been given a makeover by a top British designer. Since 2011, when the 'blank canvas' trophy was given its inaugural restyling by fashion designer Dame Vivienne Westwood, The BRITs have been committed to working with the most innovative and original artists.

On designing the statue, Emin said: "You want to do it really well. You don't just want to decorate it, you want to make something that is really Tracey-ish, that is special for the people receiving it."

BRITs Chairman Max Lousada said: "Tracey's design is characteristically bold, brilliant, colourful and inventive - everything the BRITs stands for. We're honoured to work with her and delighted to be able to celebrate the achievements of the BRIT Awards winners with such a unique and special trophy."

The first artist to get their hands on an Emin-designed trophy will be revealed on Thursday 4 November, when the winner of the Critics' Choice Award is announced. George The Poet, James Bay and Years & Years are all nominated.