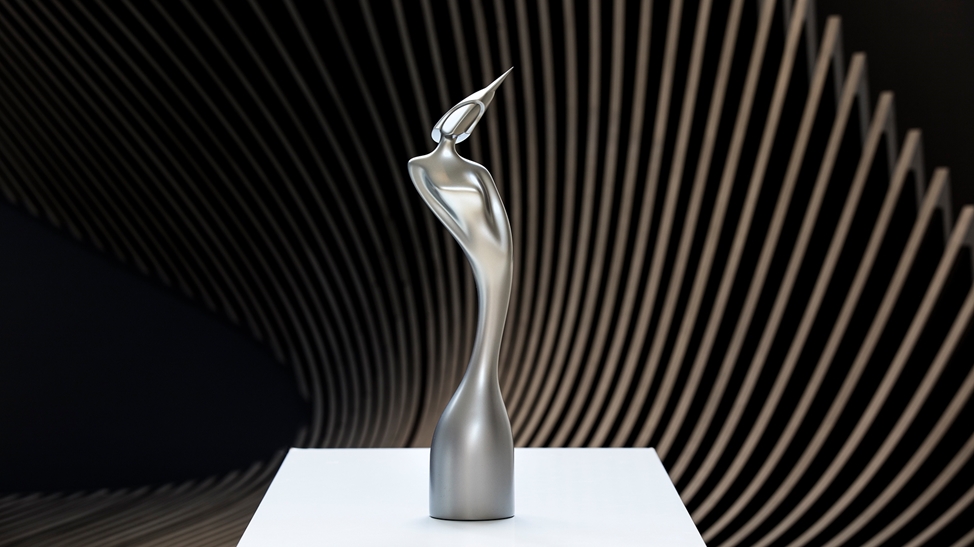 First look: 2017 trophy
Before we award our first BRIT of the year to our Critics' Choice winner next week, we're so excited to bring you the first look at the 2017 Zaha Hadid-designed award, one of the final commissions of Hadid's incredible career.

The project was led by Maha Kutay, Director at Zaha Hadid Design, and Niamh Byrne (on behalf of The BRIT Awards), since Hadid personally accepted and commenced on the brief in January of this year.

BRIT

s

Chairman Jason Iley said: "We are delighted with the finished statues. Like Zaha, they are innovative and original and have gone well beyond our expectations to create something special that will progress the Award into the future."

The Critics' Choice shortlist will be revealed tomorrow (Friday 2 December) and the winner will be announced next Thursday 8 December. The winning artist will be the first winner of the 2017 Awards and will be the first to receive the specially designed statue.

Zaha's team produced a 'family' of five statues, a concept that Kutay explains, "represents diversity; the family is connected by a wave of transition, they are different yet connected."

With a career spanning four decades, Hadid redefined design in the 21st century with her ground-breaking vision. Like music, her work celebrated the creative richness and diversity of culture. The 2017 statue both honours and adds to Hadid's remarkable legacy. The 2017 BRIT Award winners will be rewarded with her unique creativity.

Speaking about Zaha's vision for the statue, Kutay said: "Zaha was truly excited to be doing this. Our design expresses Zaha's unwavering belief in progress and optimism for the future and a break from the norm. The biggest challenge was to create something different within certain guidelines, yet achieving a result recognisable to the public. You have to respect the existing to create something new."

In March this year Zaha Hadid passed away suddenly in Miami after suffering a heart attack. Hadid, widely regarded as one of the worlds greatest architects, inspired people with her powerful creations. A visionary with an incredible imagination she was often described as the superstar of architecture. No stranger to awards herself, her work saw her pick up some of the most prestigious design awards in the world.

The BRIT Awards 2017 with Mastercard will be broadcast live on ITV - Wednesday 22nd February from London's O2 Arena.