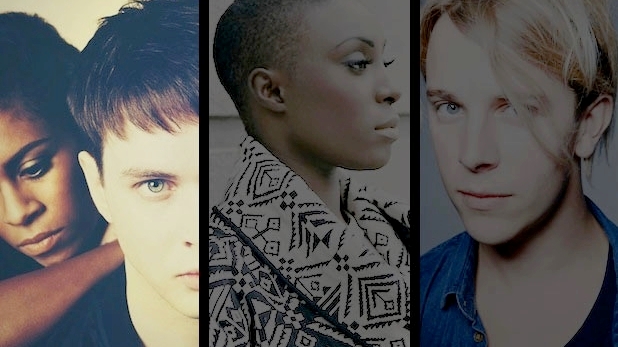 Spotlight on... AlunaGeorge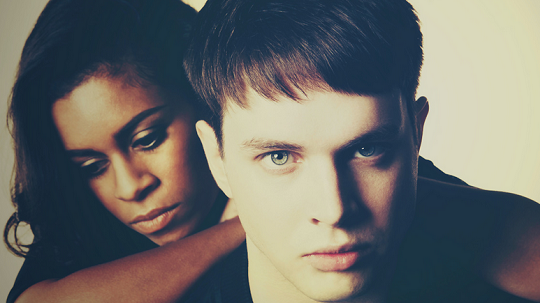 Welcome to the third and final part of our artist profiles on the BRIT Awards 2013 with Mastercard Critics' Choice nominees.
We've already taken a closer look at the immensely gifted Tom Odell and hugely exciting Laura Mvula and today we finish off with an impeccably talented duo AlunaGeorge.
Producer George Reid and vocalist Aluna Francis effortlessly bring together multiple genres, resulting in a rich mix of indie-electronica. With influences ranging from Flying Lotus and Hudson Mohawke to the more R&B Aaliyah and Destiny's Child they are creating their own brand of pop music, with Aluna writing and singing the melodies and lyrics whilst George arranges the music into uncanny and seductive new shapes. The London based duo met in 2009 and have since released two fresh, irresistible singles, 'You Know You Like It ' and 'Your Drums, Your Love'.
We spoke to AlunaGeorge to discuss their Critics' Choice Award nomination. Here's what they had to say...
First of all, congratulations are in order - how does it feel to be nominated for the Critics' Choice Award?
Aluna: "It feels absolutely great, I'm still in shock, it's just really exciting. It came from absolutely nowhere; we even had a gig planned on the actual awards night! We found out in the back of a cab on the way to a Dolce & Gabana party and finding out such amazing news on the way to such a cool event just blew my brain."
How does it feel to be recognised by the BRITs; they must mean a lot to you...
Aluna: "We've seen how it can really help artists get their careers going so we know it's a massive opportunity for us. It's also quite bizarre to feel a part of it because it's such an important part of British culture - we grew up watching the BRITs on TV and hearing about it on radio so there's still a massive element of shock for us to be part of something like this."
Now, for those that don't know too much about you, or might be hearing about you for the first time because of this nomination, please tell us a bit about yourselves…
George: "I approached Aluna as I wanted to remix a song she was working on and then we met up and started making music together and, quite simply, that was that. I produce the music myself and Aluna writes the lyrics, melody and some of the music too."
Aluna: "We were self-contained at the beginning which was great because it meant we could do whatever we wanted..."
George: "I was into instrumental hip-hop music and I found it strange how it was all just instrumental. I couldn't figure out why people weren't putting songs over these great beats. "For me, the idea was trying to get these landscapes of music and then putting them together with real life songs with melodies that you can hum at the end of the day."
Aluna: "For me, listening to really cool electronic music, I'd wonder how I could fit myself in their somehow. A big reference is Radiohead - their songwriting capability alongside the experimental music they make is really incredible."
What are your thoughts on British music right now?
Aluna: "Really excited, this year coming up is going to be great and I can't wait to hear all the albums coming up. Things like the Disclosure record are going to be so good. It's amazing to be involved with all that and working with those artists and being nominated for the Critics' Choice Award makes it feel all the more amazing."
What would it mean for you to win the award?
Aluna: "Oh my God. I mean, the idea of winning would just blow my brains out! It's the BRIT Awards and you're being backed by your own country - you can't ask for more than that really.
"Also, I saw Tom Odell on Jools Holland and remember thinking he was very good."
George: "We've not heard a lot of Laura Mvula, but we gave her a listen when we heard she was nominated and she's got a wonderful voice, really unique."
And finally, any key BRIT Awards memories?
George: "The infamous Geri Halliwell Union Jack dress."
The Critics' Choice Award is for new British acts tipped by critics for mainstream success in the forthcoming year.
The winner of this incredibly coveted award will be announced on Thursday 20th December. The second and third places will aslo be announced on the same day.
In previous years it has been awarded to Adele (2008), Florence and the Machine (2009), Ellie Goulding (2010) and Jessie J (2011). 2012's winner Emeli Sandé has had a fantastic year. The Scottish singer/songwriter's debut album 'Our Version of Events' scored a Number One in the Official British Chart; she has also had Number One singles with Professor Green and Labrinth. Emeli performed at both the opening and closing ceremonies of the 2012 London Olympic Games this summer.
The BRIT Awards 2013 with Mastercard take place on Wednesday 20th February 2013 at The O2 Arena, London.