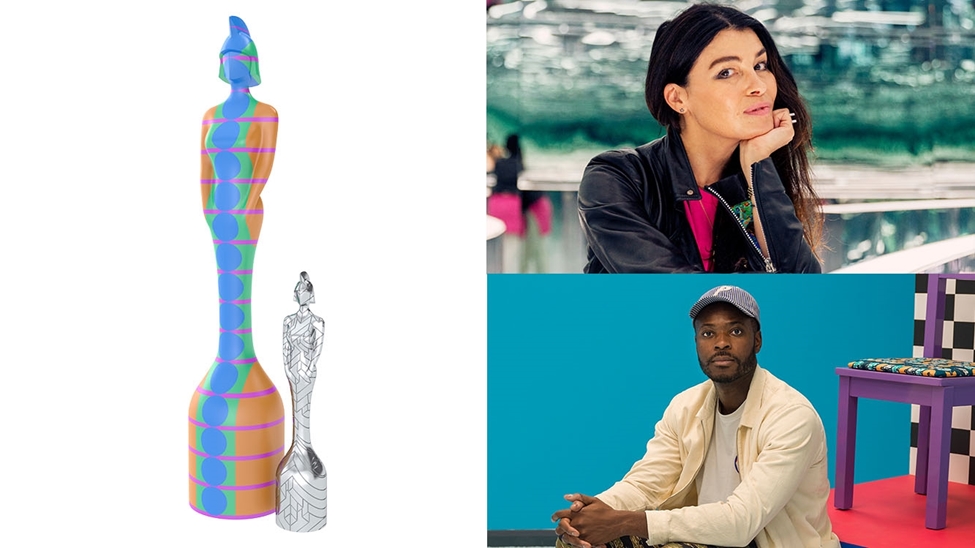 BRITs 2021 trophy reveal!
We're so excited to reveal the BRITs first collaborative double-trophy design! Following a legacy of unique and bespoke designs over the past decade by some of the UK's most celebrated creatives including Dame Vivienne Westwood, Sir Philip Treacy, Tracey Emin, Anish Kapoor, Dame Zaha Hadid and Sir David Adjaye, this year for the first time we'll incorporate two very different and visually striking statuettes, with each winner encouraged to award the second smaller trophy on to someone else - be it family member, friend, neighbour, colleague, fellow artist, key worker, or another person important to them.

Speaking to Helen Lamont for the BRIT Awards Show Programme*, Es Devlin explains:
"Yinka and I thought that the best award that one could receive would be agency to award another...Each recipient is invited to award the second trophy to someone they consider worthy - it might be recognition - or it might be someone that does something entirely unrelated to music."

Yinka Ilori continues:
"The idea came from the experience of lockdown, where your neighbour you've lived beside for six years and never say hello to suddenly gave you flowers, foods, acts of kindness. I wanted to capture that...I would describe it as two artists from different disciplines, different inspirations, coming together to design a trophy based around the idea of giving something back - acts of kindness."

The co-creative direction of this year's award sees the larger statuette encased in Ilori's signature colour palette inspired by his Nigerian heritage; in his words, "an explosion of colour...a nod to my aesthetic, based around my storytelling theme", whilst the smaller statue is described by Devlin as "engraved with the maze pattern that celebrates the paths many of those working within the creative industries have had to tread in order to progress through this challenging year."

They are stunning designs and we can't wait to see who the lucky winners award the smaller trophies to! You'll be able to find out on 11 May at 8pm BST | 3pm EDT | 12pm PDT on ITV, STV and YouTube.