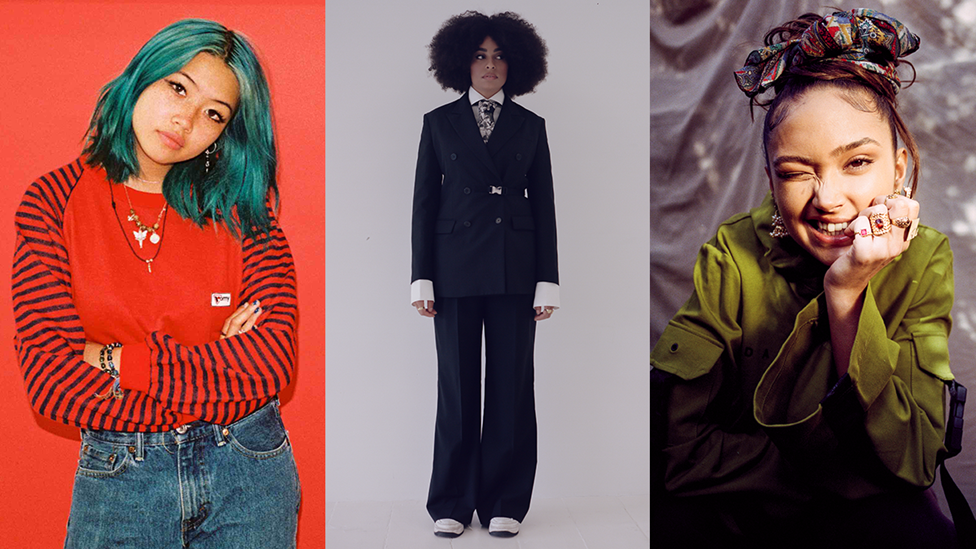 Meet our 2020 Rising Stars!
We're excited to finally announce our shortlist for the 2020 Rising Star Award, with the winner being announced on Friday 6th December! This year it's a shortlist full of girl-power, spanning musical genres including indie-rock, soul and jazz. We've also evolved the award from its original name of BRIT

s

Critics' Choice, which is in line with the exciting changes for what will be our 40th BRIT Awards show in 2020.

Since 2008, this award has helped launch some of Britain's most loved artists of the last decade including Adele, Florence + The Machine, Sam Smith and Rag 'N' Bone Man, collectively resulting in over 135 million album sales worldwide.

For the first time ever, our Rising Star winner will receive a performance slot in the main show, demonstrating our continuing commitment to championing and supporting new British music.

The shortlist

Born in the Philippines and raised in London, Bea Kristi began recording music as Beabadoobee in 2019. At just 19 Beabadoobee has built her huge, Gen-Z fan base with her flawless output of confessional bedroom pop songs and DIY aesthetic. Her first track 'Coffee' gathered hundreds of thousands of streams in a matter of days, through a fan-uploaded video. Since then, her songs have amassed millions of streams between her own self-released recordings and her first two EPs 'Patched Up' and 'Loveworm', and has received support from Vogue, Dazed, The Fader, i-D, Noisey and The Guardian, amongst others.

Beabadoobee on being nominated for the Rising Star award:
"It's suuuper cool to be nominated for the BRIT

s

Rising Star award and I'm so grateful. It's so weird to think that writing music in my bedroom could appeal to so many people. Thank you so much to anyone who has voted for me!"

British-Jamaican Celeste, who was born in LA but Brighton-raised, discovered her love of music and singing through her grandad who introduced her to the old soul greats at an early age. The two would listen endlessly to tapes of Aretha Franklin and Ella Fitzgerald while Celeste sang along, already identifying something in the raw emotion of those singers that she connected with. Entirely self-taught, she started performing music when she was 18, covering classic soul, funk and jazz songs and eventually gaining the confidence to start writing her own material. Over the following years, she continued to hone her sound ahead of signing a major label deal with Polydor last year. Since then she has garnered critical acclaim for a string of singles including 'Lately', 'Father's So'n and latterly 'Strange', which was added to the B list at Radio 1. Known for her incandescent voice and breathtaking live performance, she has sold out every London show this year – including 3 dates at Omeara - and supported the likes of Michael Kiwanuka, Janelle Monae and Neneh Cherry as well as duetting with Paul Weller. She recently announced a UK headline tour next April, selling out Shepherds Bush Empire in a matter of days.

Celeste on being nominated for the Rising Star award:
"My earliest memory of the BRIT

s

was 2002, I was around 8 years old. MC Romeo had me at "turn up the bass line" and MisTeeq were the women I wanted to be when I grew up. It was a cold winter evening and I was glued to my television, I remember being in a frenzy with every word they sang. It was in that exact moment that I thought I would like to be a part of that one day. To be nominated for the Rising Star award is a huge honour, especially to recognised this early on in my career."

South London's Joy Crookes began writing songs as an obsessive music fan at the age of 12. Two years ago, YouTube channel 'Colors' uploaded a video of her performing 'Mother May I Sleep With Danger' which now stands at over 8 million views. 2019 saw her release two EP's - 'Reminiscence' and 'Perception', play a slew of impressive festival performances (including Radio 1's Big Weekend and Glastonbury), headline sold out shows across the UK and Europe and as a result, won an overwhelming amount of critical acclaim and an ever-growing adoring fanbase. Her unique, fresh and modern approach to storytelling through song has seen her become a treasured and trusted new voice, using her blend of jazz, soul and pop to speak openly about the world she finds herself living in. With all this in mind, and so much more to come, 2020 looks set to be Joy Crookes' biggest year yet.

Joy Crookes on being nominated for the Rising Star award:
"I remember watching the BRIT

s

as a child - especially seeing my favourites like Lily Allen, Corinne Bailey Rae and Amy Winehouse up on the screen. I've always looked up to these inspiring and strong women so to be able to be recognised in the same way they were is insane - thank you so much to anyone who has supported me to get here!"

Until now this award has been chosen by a specially selected panel of music editors, critics from the national press, online music editors and heads of music at major radio and music TV stations. However, for this year, we've expanded this to include more tastemakers made up of songwriters, producers, and live bookers – the people who work with rising talent on a regular basis.

There'll be more exciting updates announced in the months leading up to the big night - which will, as always, be a massive celebration of the incredible achievements and successes of British talent!