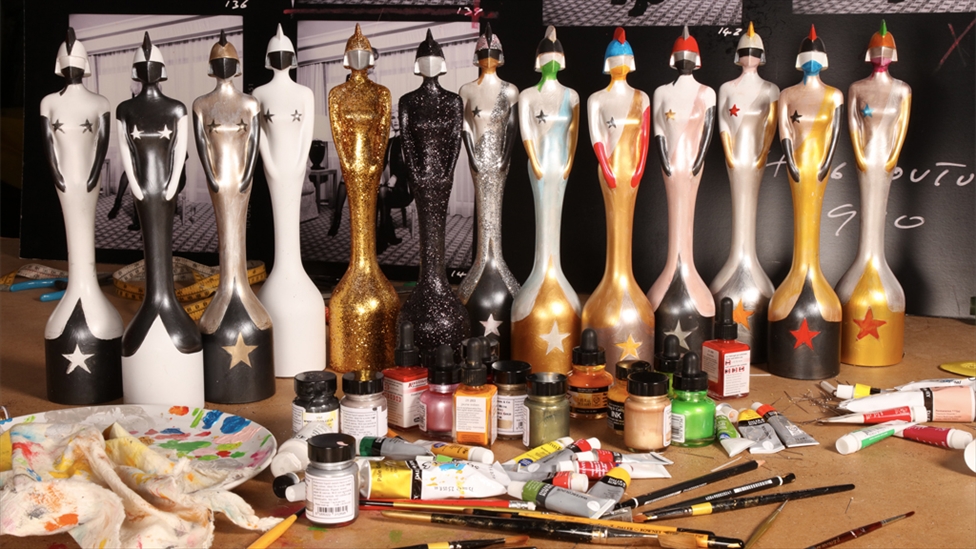 Pam Hogg revealed as BRITs trophy designer
It's been announced that next year's BRIT Awards winners will all receive an exclusive trophy designed by Scots-born fashion designer Pam Hogg.
Each statue handed out at the 2016 Awards will be individually designed by Pam and form part of a unique collection. Pam has previously designed clothes for artists including Kylie Minogue, Debbie Harry, Jessie J, Taylor Swift, Björk and Rihanna and has herself fronted a number of punk bands.
The first image of the trophies has been revealed today (23 November) and shows Pam's creative use of glitter, metallic colours and a signature star icon which features on all but two of the statues. We can't wait to find out who'll be picking up which trophy when the BRITs takes place on 24 February 2016.
Hogg is the sixth designer to redesign the BRITs trophy and follows in the footsteps of last year's stylist Tracey Emin and previously Vivienne Westwood (2011), Sir Peter Blake (2012), Damien Hirst (2013) and Philip Treacy (2014).
Pam, who holds a Master's Degree from the Royal College of Art in London, has worked on a variety of cutting edge projects in both film and music. Since launching her debut collection in 1984 she has won multiple awards for her work as well as continuing to push boundaries and remain as one of the most in demand names in her field.
Pam Hogg said: "An artist's true reward is that her/his work resonates and connects. Given a chance, the unseen unheard and unsung may also one day touch and unlock a waiting heart."

BRITs Chairman Max Lousada said: "Having designed for some of the world's greatest music artists, it's absolutely fitting that Pam is bringing her unique vision to The BRITs trophy. The fact that each statue will be a unique, bespoke piece mirrors her status as a truly singular talent and we are delighted to be working with her."
The BRIT Awards 2016 with MasterCard will take place on Wednesday 24 February 2016 at London's O2 Arena and will be broadcast live on ITV. Ant & Dec will return as hosts.